If the project is actively promoting by linkbuilding, it is necessary to regularly conduct a mass backlink check out. About 20% of webmasters simply remove the external link a year after posting. Are you ready to waste a fifth of the budget? In addition, there is a danger that links to very important pages of the website will disappear, and Linkbuilder will not even know about it.
Only if you use Linkbox bulk backlink checker on a regular you gain full control over the results of promotion and find out what works and what doesn't. And also immediately after the removal, quickly respond to this by writing to the webmaster or replacing the lost reciprocal link.
Data sources of backlinks at Linkbox backlinks checker
In Linkbox tool available just two various sources of external links: manually imported and added through crawler's module. For both of them, you have to create an external link campaign. It's simple, click on the button "Create campaign", and follow instructions.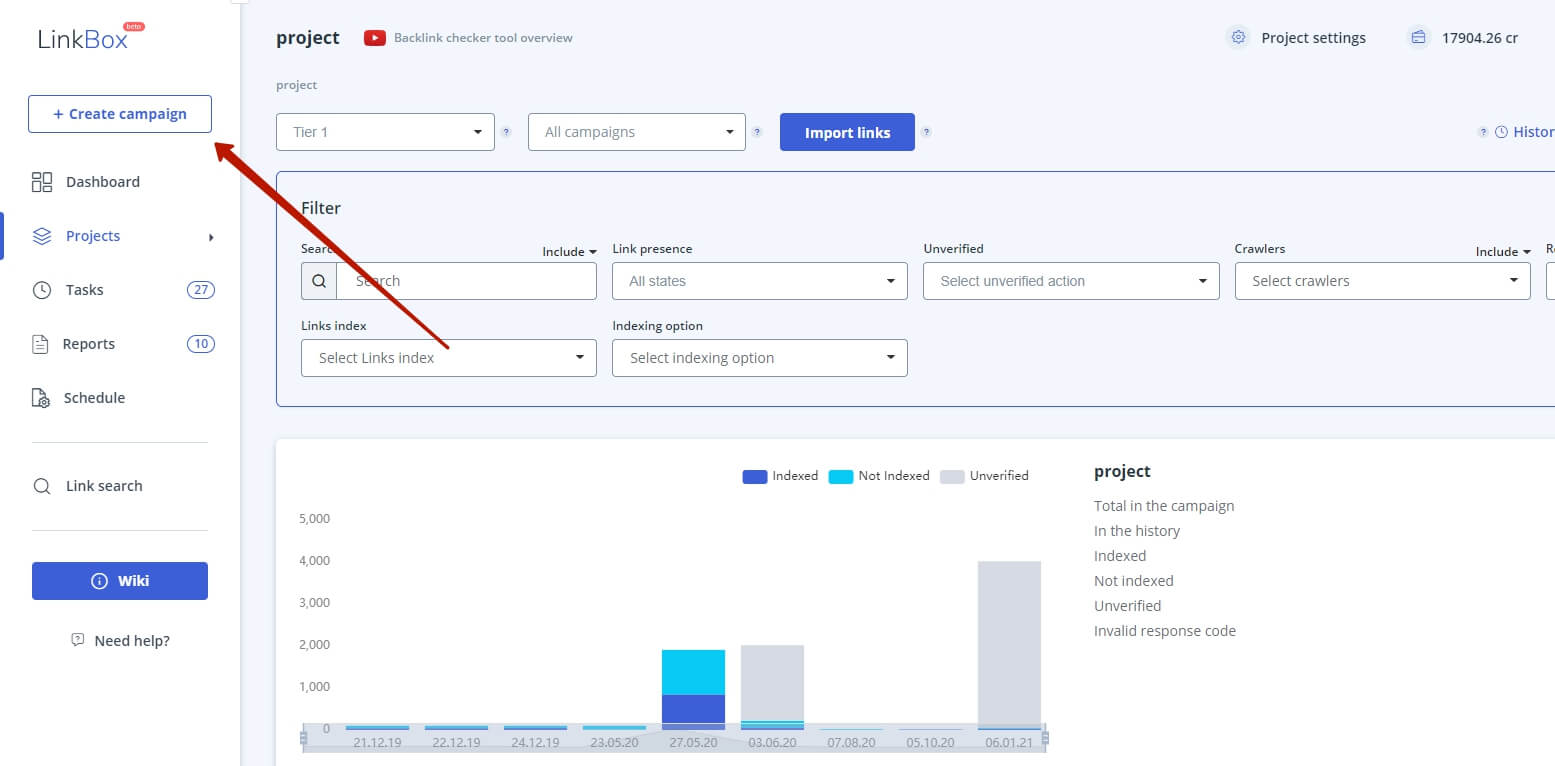 By hand imported external links are links hinting to your website you know about and save in excel or other information sheets. And you can upload it straight into your campaign: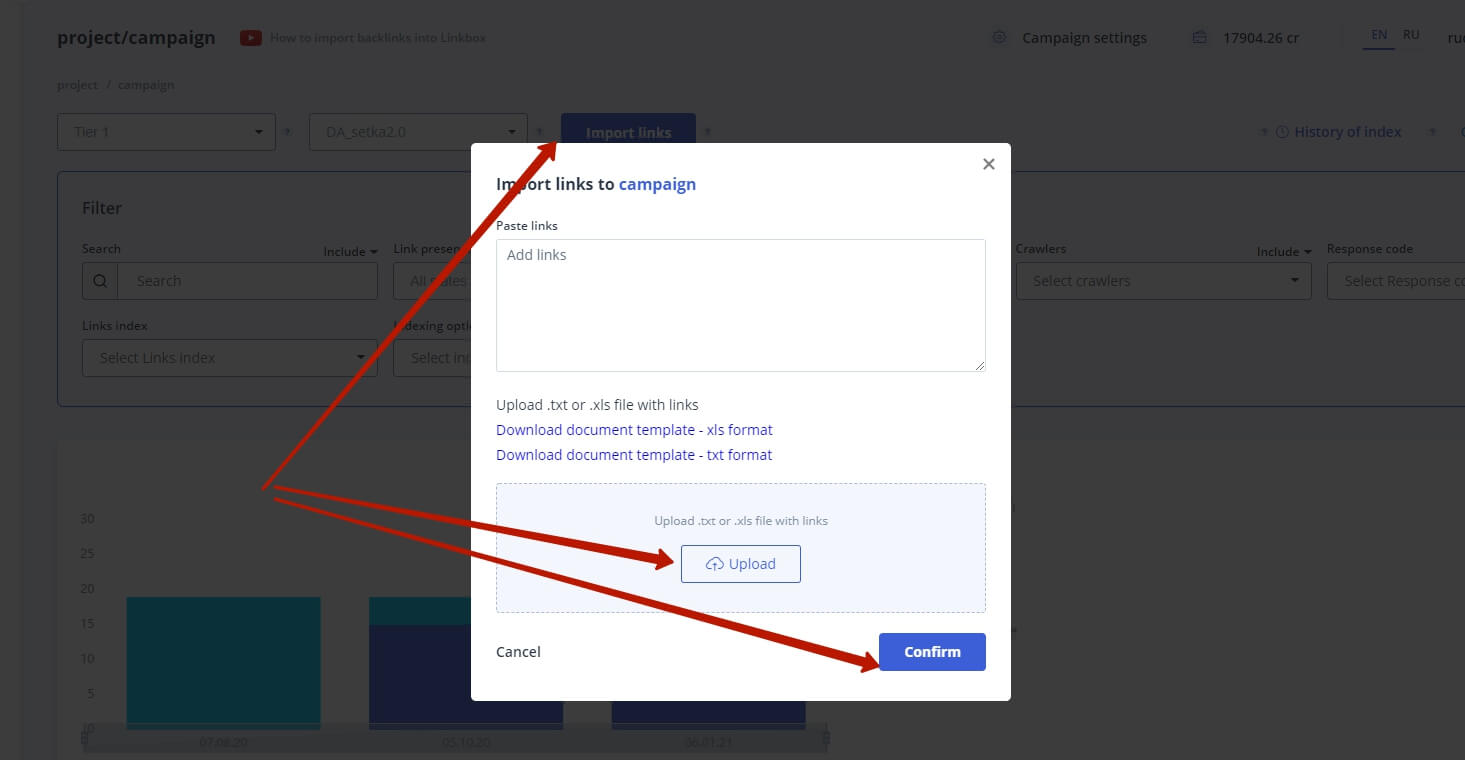 Another type of backlinks to check is obtained from other crawlers such as Google Console, Ahrefs, SEM-Rush, Majestic along with other less popular crawlers. The most important difference of backlinks you receive from such services and some of them appear behind your back. You need to acquire a file with backlinks for every one of these programs and upload those files into the Linkbox backlink checker tool. For this purpose, you can use the Crawlers module. This module has tabs to upload files from GSC and Ahrefs. For other crawlers, Linkbox back link checker has Temporary tab.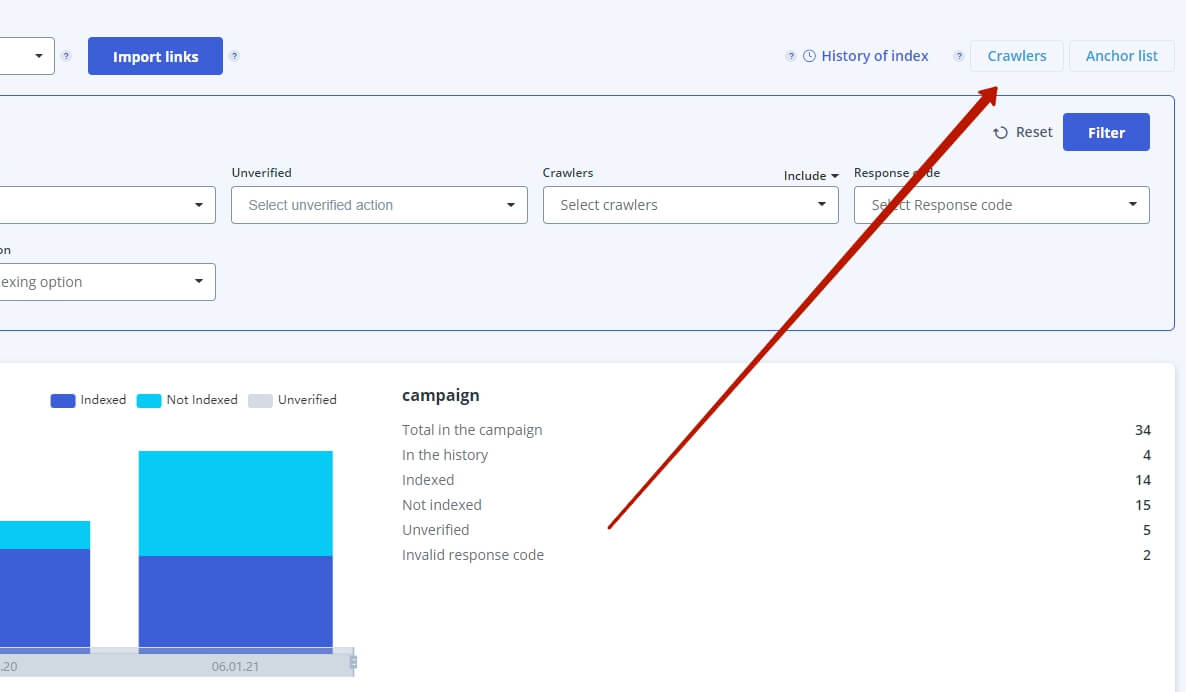 And only import your information into exact crawler tab: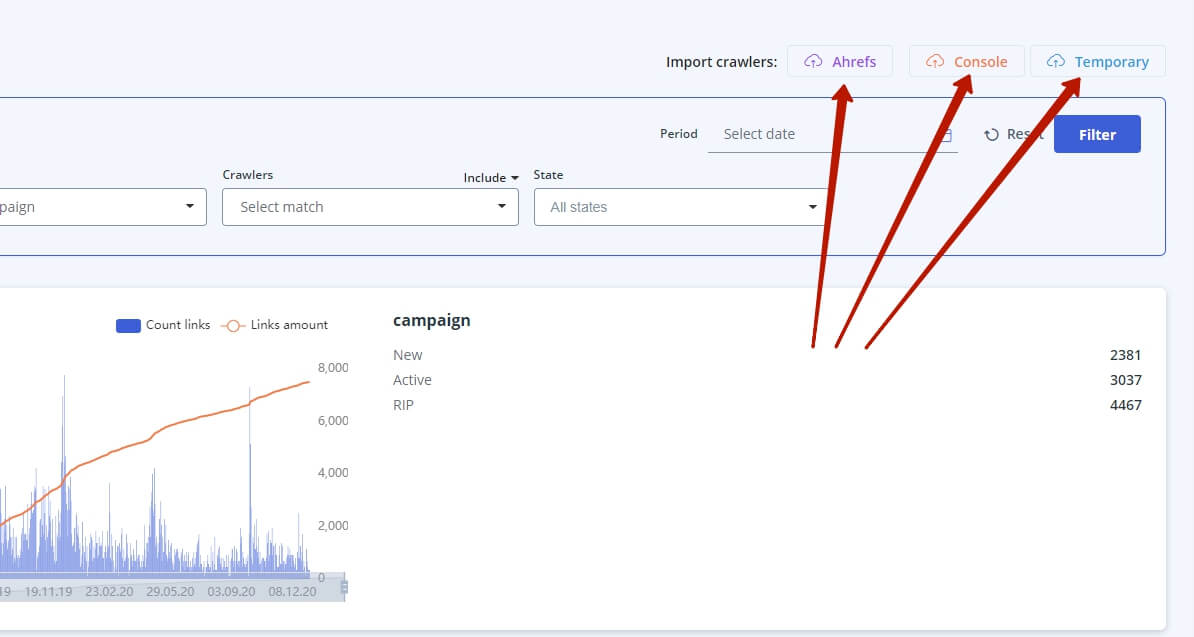 Mark all reciprocal links you want to check with our backlink software.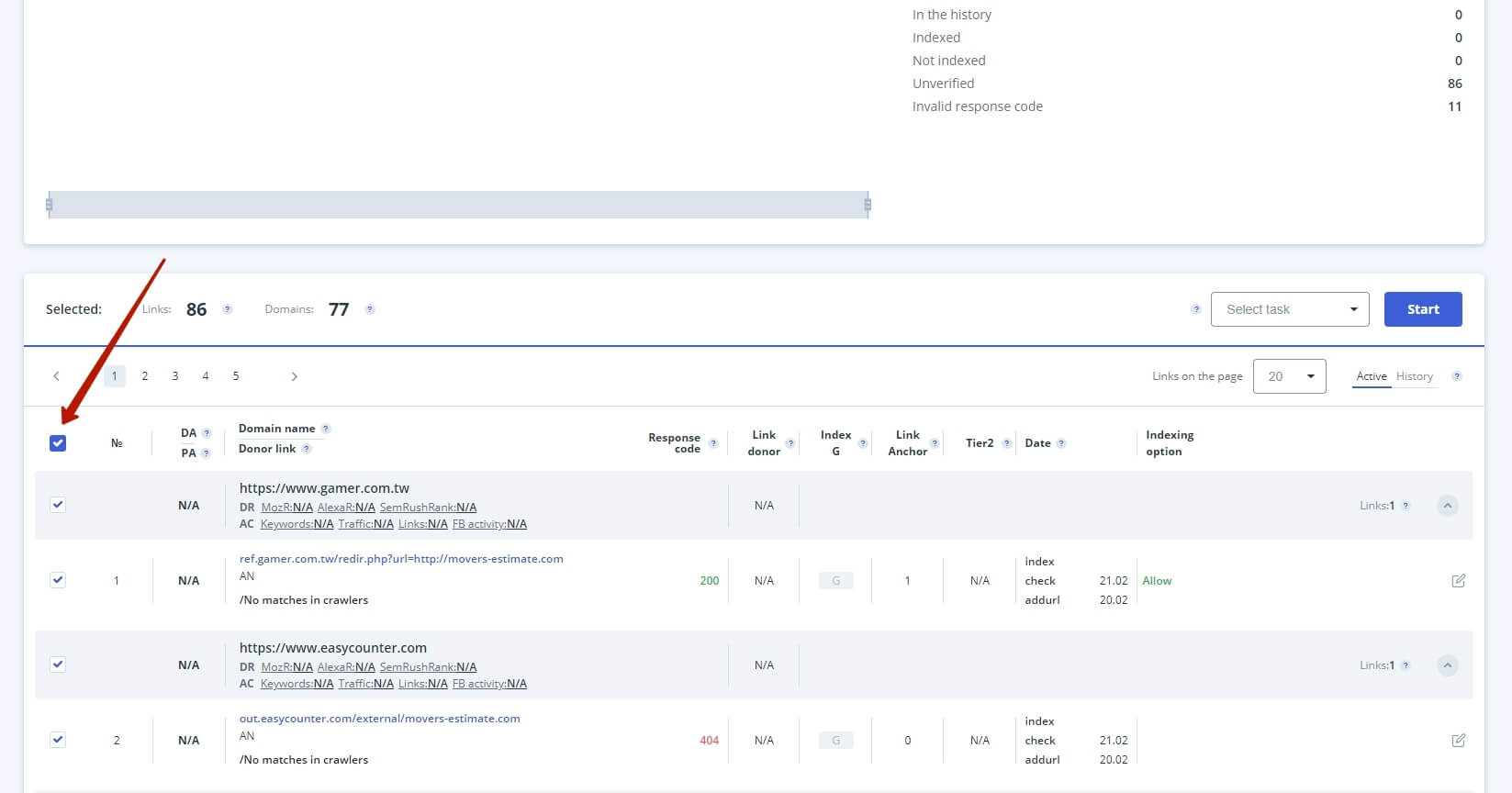 From the list of actions you need to select "Check links" and click "Start".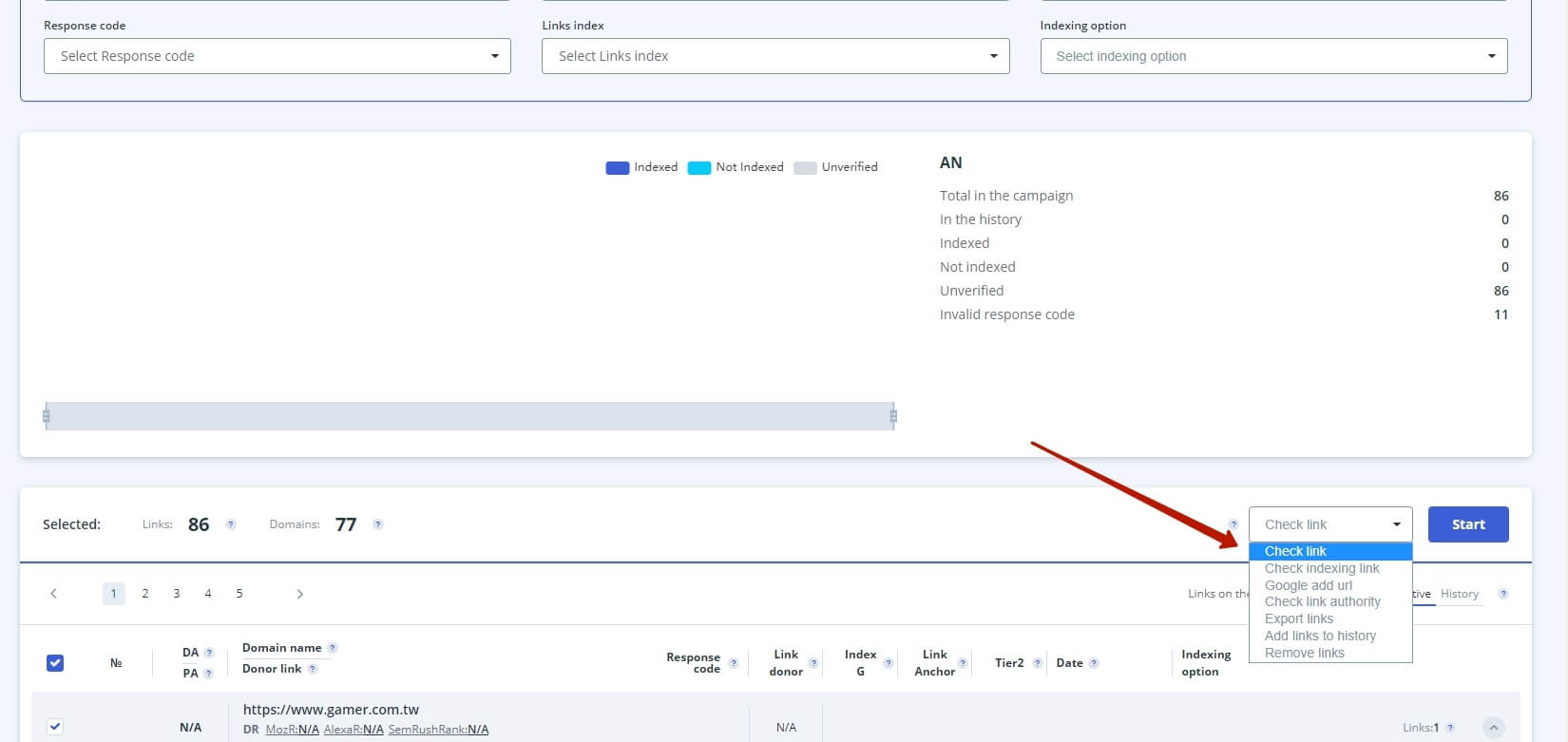 Progress status
Checkouts can be tracked in "My Tasks"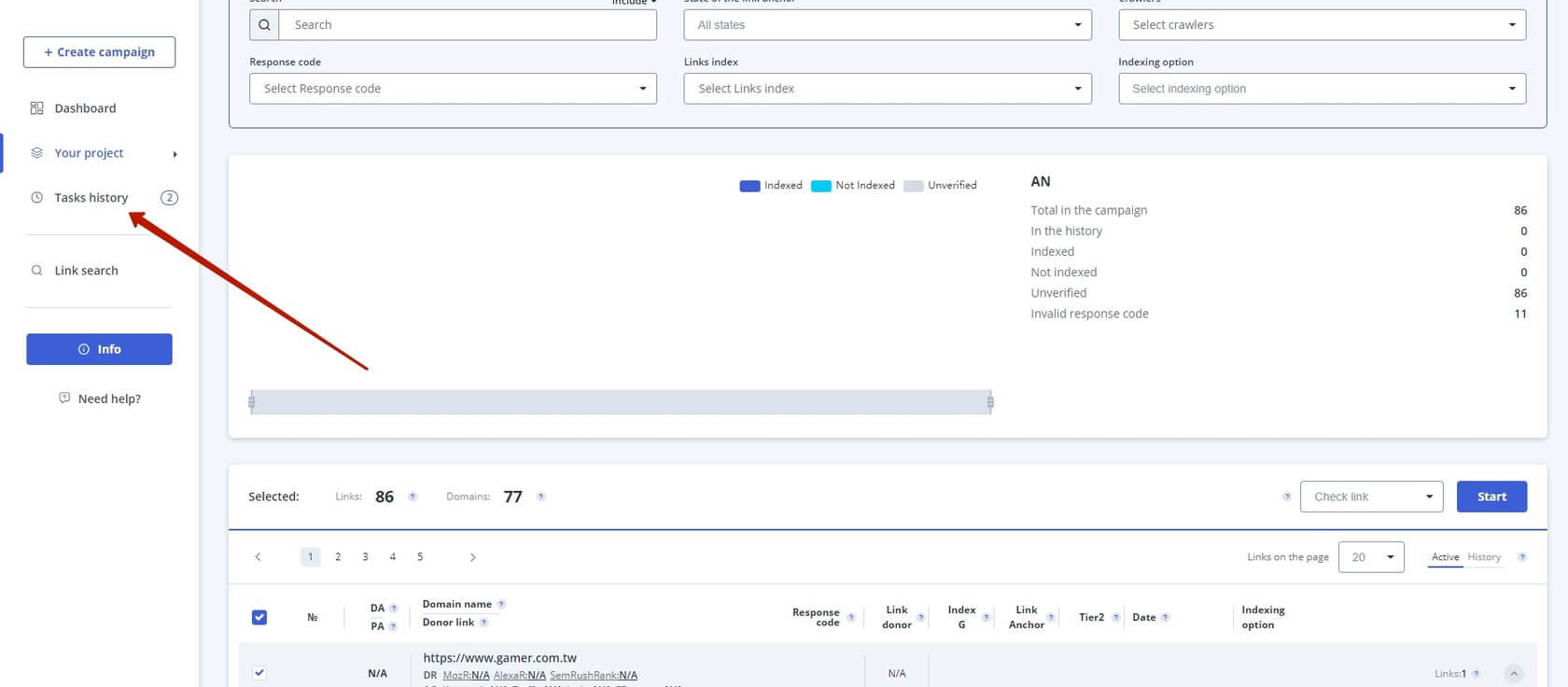 What data you get when you check backlinks in Linkbox tool
Lets group all backlink data in two groups according to Linkbox modules:
Primary backlink table data:
In this table, information is grouped by donor domains and pages linked to your website. Data appears in this table after you apply online backlink checker to all your links
Data for root domains:
Per cent of indexed donor pages per this domain.
Number of backlinks per domain.
Quantity of tier2 inbound links referring to this domain (available only if you have uploaded your own tier 2 backlinks and implement backlink checker to them).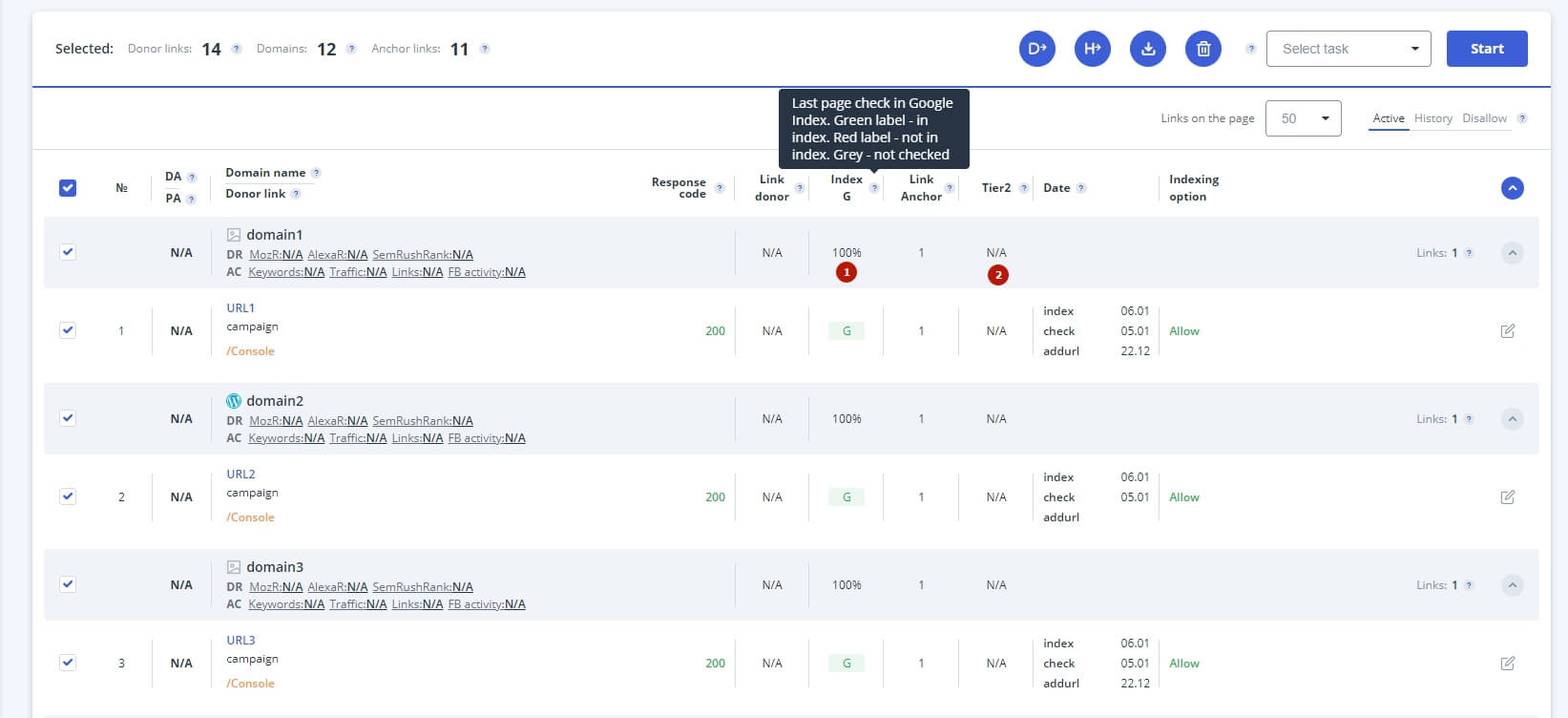 Data for donor pages:
Response code of a donor page.
Interception with crawlers (only if you've uploaded crawlers data).
Number of backlinks on this referring page.
Indexing status (only if you applied Google index checke checkout ): Green - indexed, Red - not indexed, Gray - never checked.
Dates of last checkouts. Index - date of past "Check indexing link" checkout, check - date of past "Check link" checkout, index - date of last "Google add url" action.
Backlinks indexing options.
Additionally popup.
Statuses of all indexing options discovered by bulk external backlinks checker:
Allow – backlinks can be indexed by any search engine.
Canonical - page has canonical tag referring to some other page. Still may be indexed cause canonical only gives to search engines information exactly what page is not original.
robots.txt - indexing disallowed by robots.txt file. Sometimes can be indexed by Search engines cause robots.txt gives just tips to Google and other engines to index or not.
Meta nofollow - page can be indexed, but most of the links on this page do not pass link juice. Sometimes link juice goes despite no-follow significantly when nofollow backlink is included into an excellent article on a high-authority site.
Meta no-index - indexing disallowed by meta robots noindex tag. So it can't be indexed, however sometimes reciprocal links with this tag can be added into Google Search Console and pass some link juice.
Meta none - is just like meta noindex and nofollow tag.
X robot tag - indexing disallowed by HTTP header x robot tag. Much like meta robots.
Structure of "Additionally" popup of backlink checking tool:
Donor page URL.
Final URL with HTTP code (if donor webpage response code is among 3** it differs from start page)
Title of the donor page
URL of acceptor page
Anchor texts of backlinks on this page
Type of reciprocal links
Backlink Attributes
To handle reciprocal links, you can apply the following filters based on bulk backlink checker tool information:
Link presence - filter with the availability of back links on the referring page.
Unverified - filter all links by unchecked data.
Crawlers - filter via an interception with exact crawlers.
HTTP code - filter by all HTTP codes found on your own donor pages.
Links index - filter by backlinks index status in Google.
Indexing option - filter with the availability of indexing.

Additionally, you can quickly analyze the summary data by looking at the chart. It shows indexed/not indexed ratio through days of checkouts. After successful implementation of batch link checker near the chart summary information of your reciprocal links is represented: total reciprocal links, inbound links included to the history folder, indexed reciprocal links, unverified and backlinks with invalid response codes (not 200).
Anchor list tool information in Linkbox external backlink checker:
Anchor relevance is one of the very essential Google ranking factors. That is obvious for every competent SEO specialist. Therefore you must analyze what anchor texts of your backlinks are already indexed, added to Google Console and so on. Linkbox tool Anchor list tab is useful for this goal.
Above the data table, you also may see the summary amount of referring pages and external links. For many external links, you'll be able to apply a few checkouts: "Export" and also "Google add url".
Let us find out exactly what information we are able to analyze in the information table after you implement a href backlink checker. Data is grouped by anchor texts of inbound links. For each anchor text, you can observe the quantity and percent of it to the entire number. Also, you can analyze every inbound link with this anchor text.
Data for Each single backlink you get from back link checker tool:
Referring page URL
Acceptor page URL
Indexing status
Interception with crawlers, added date and fall out date.
Campaign of this link
Backlink attributes of inbound link on this anchor
Type of reciprocal link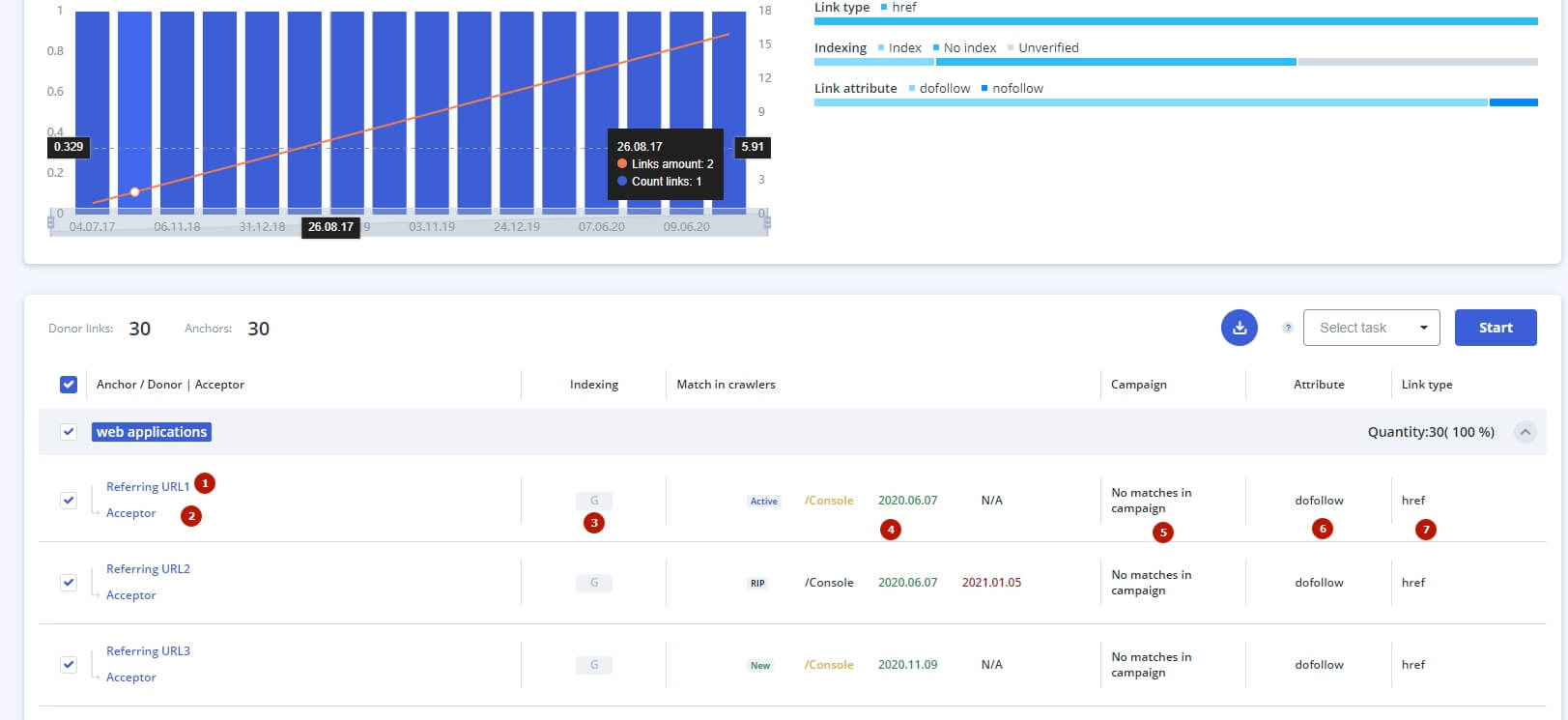 Based on the above data, you can filter out your anchors with the following filters:
By campaign
By backink type
By backlink attribute
By interception with crawlers
By index status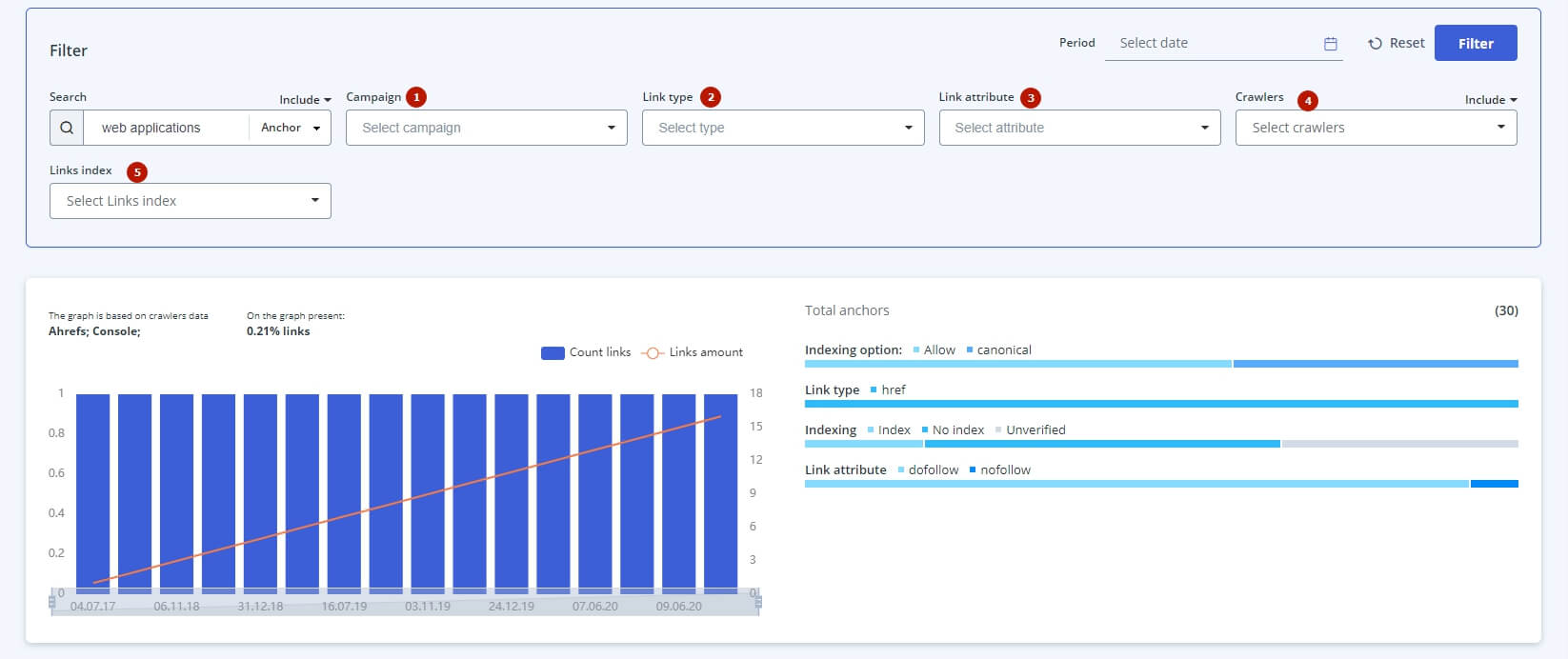 With the anchor list chart, it is not hard to see how evenly backlinks appear in crawlers. So you can decide how natural the backlink profile of your promoting website is. Near the chart also introduced distinct useful ratios:
Indexing option ratio
Backlink type ratio
Index status ratio
Nofollow/dofollow ratio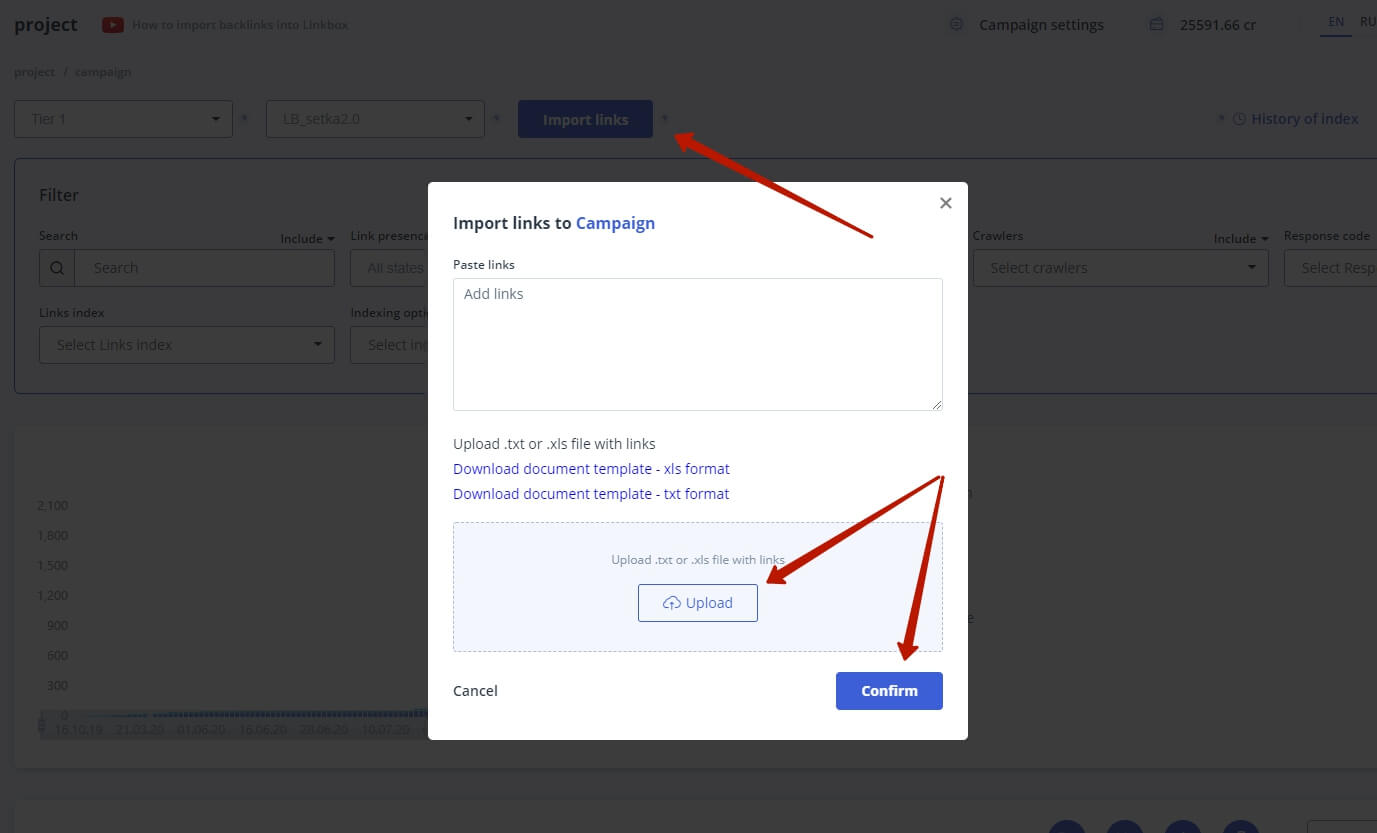 Automatization of bulk url checker in Linkbox
With Linkbox google backlink checker, you do not need to waste much time to manage your backlinks. With the schedule module, you can setup periods when bulk "Check link" and bulk "Check indexing link" actions will apply to each external link campaign in your projects.
Simple algorithm how to Create your automatic backlink check outs:
Select Backlink nesting level: t1 or tier 2.
Select the project that you would like to setup.
You need to set a period of time of checkouts and exact time for "Check link" and "Check indexing link" for each backlink campaign.
Just set the checkboxes into ON.

From this time you won't need to be concerned about your backlinks check outs. They will begin and repeat with a time you set up.