What information you get in Linkbox backlink counter
Lets group all reciprocal link information in several groups based on Linkbox tool modules:
Primary backlink table data:
Within this table, data is grouped by root domains and pages linked to your website.
Data for referring domains to count:
Percent of indexed referring pages per this domain.
Quantity of backlinks per domain.
Quantity of t2 external links referring to this domain (available only if you have uploaded your own tier 2 external links and check them).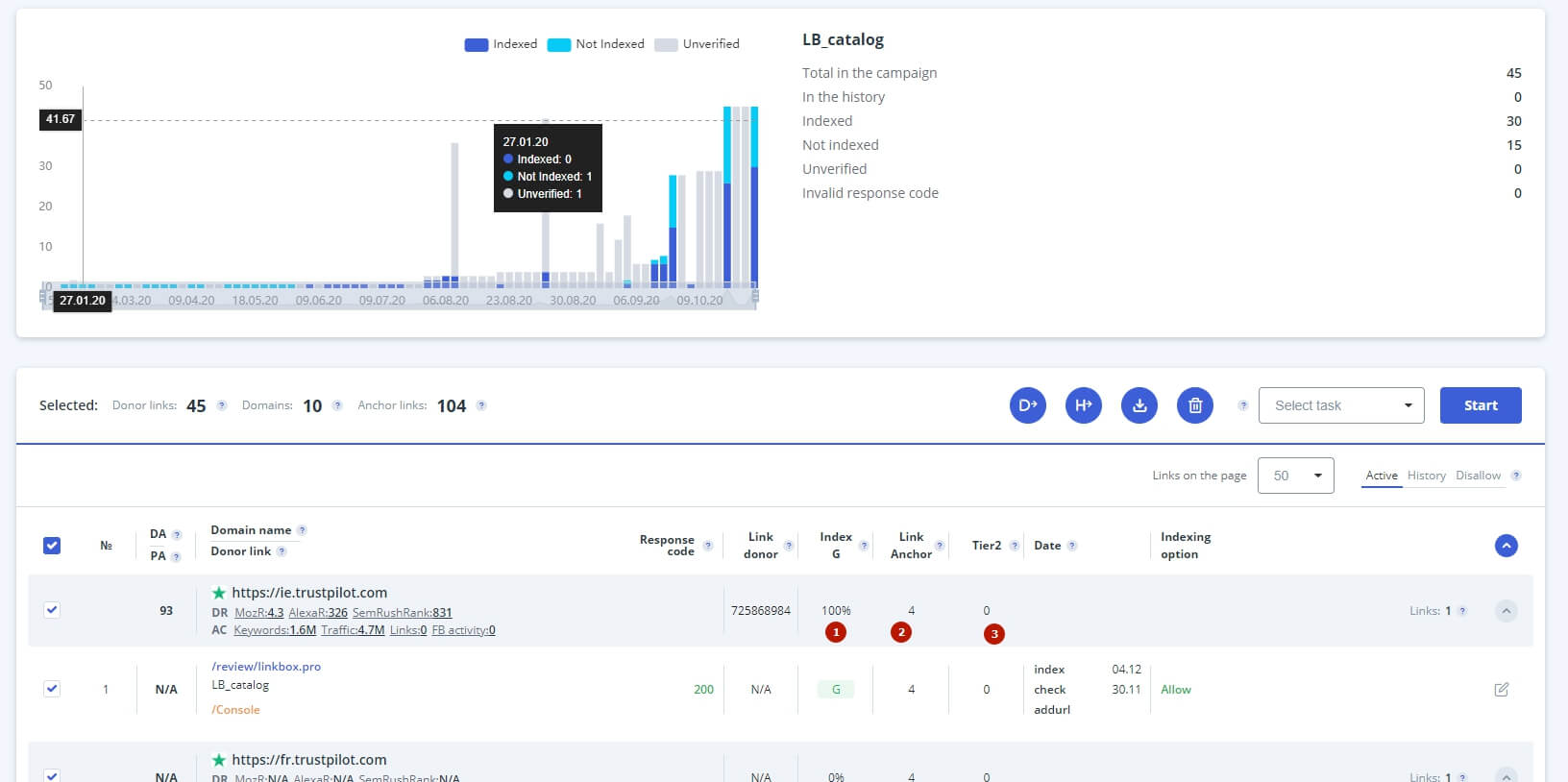 Data for donor pages to count backlinks:
HTTP code of a donor page.
Interception with crawlers (just if you have uploaded crawlers data).
Quantity of backlinks on this page.
Indexing status (only when you implemented "Check indexing link" check out ): Green - indexed, Red - not indexed, Grey - not checked.
Dates of last check outs. Index - date of past "Check indexing link" action, check - date of last "Check link" checkout, index - date of last "Google add url" checkout.
Indexing options.
Additionally pop up.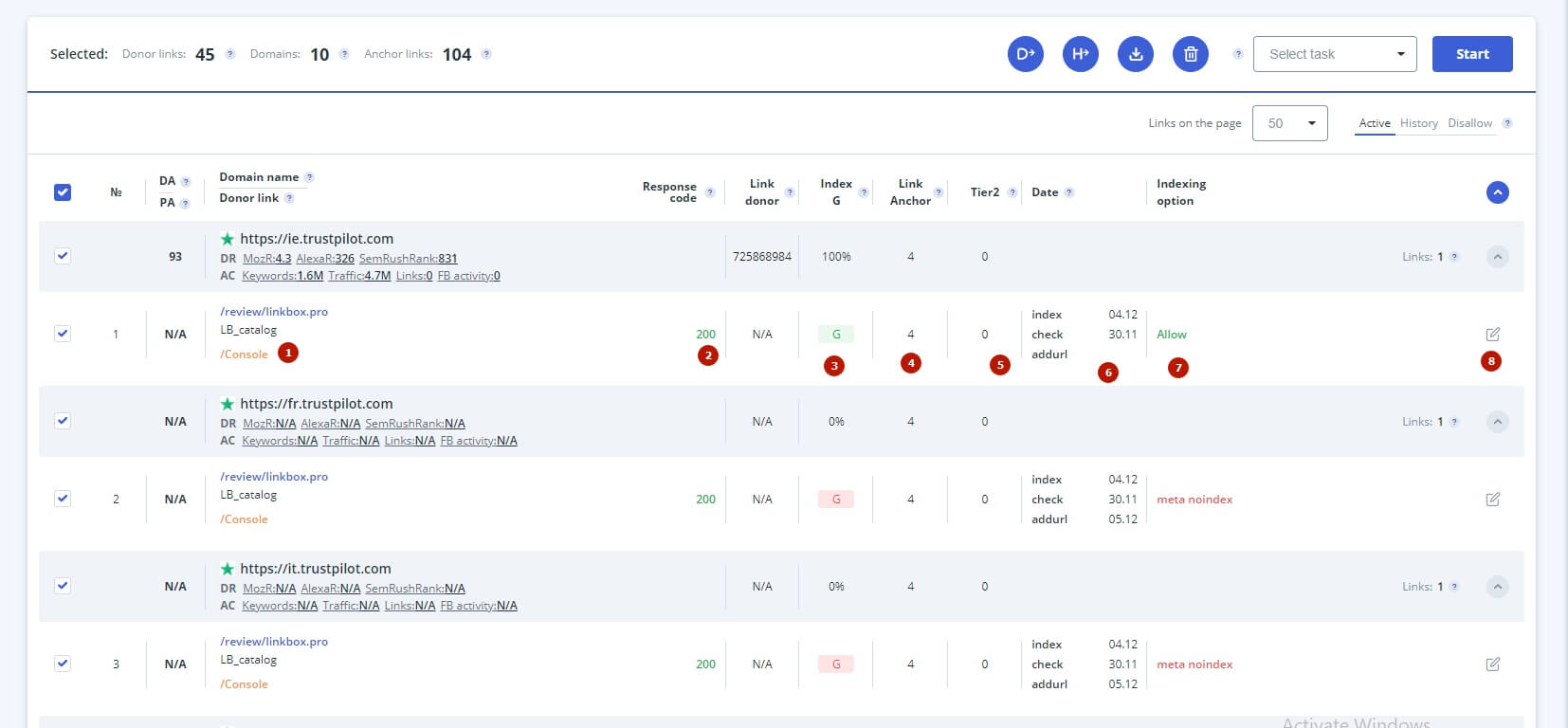 Also, you're able to quickly analyze the summary information by taking a look at the graph. It counts indexed/not indexed ratio through days of checkouts. Near the graph, represented summary data of all your inbound links: total backlinks, reciprocal links included into the history tab, indexed external links, un-verified, and links with invalid response codes (not 200).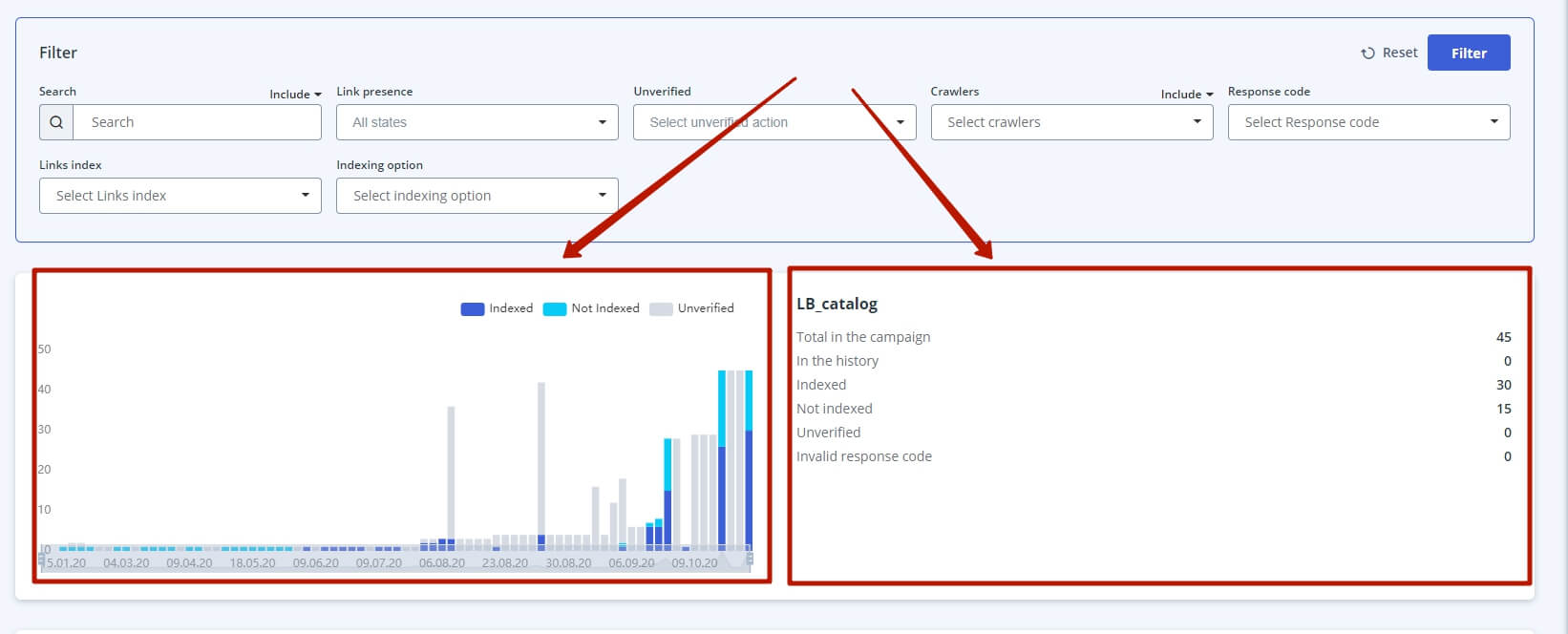 Anchor list tab data:
Anchor relevance is one of the very crucial Google ranking factors. That is obvious for every competent search engine optimization specialist. Therefore you must count all anchor texts of your inbound links that are already indexed, added to Google Console, and so on. Linkbox backlinks counter Anchor list tab is a useful tool for this purpose.
Above the information table, you can observe the summary quantity of donor pages and reciprocal links. For many reciprocal links, you're able to apply a few actions: "Export" and also "Google add url".
Let's find out what information we could analyze in the data table. Anchor texts of backlinks group data. You may also count the quantity and percentage of this anchor to the anchors' total amount for every single anchor text. Also, you can analyze every backlink on this specific anchor text.
Data for Each single anchor to count:
Referring page URL
Acceptor page URL
Indexing status
Interception with crawlers, added date and fallout date.
Campaign of this link
Backlink attributes of backlink on this anchor
Type of inbound link

With the anchor list graph, it's simple to see how evenly backlinks count in crawlers. So it's possible to decide how natural the external link profile of your promoting site is. Near the chart also presented different useful ratios:
Indexing option ratio
Backlink type ratio
Index status ratio
Nofollow/dofollow ratio